Other Silly Stuff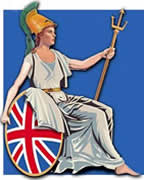 If you like this site, please help me out with the upkeep!
---
Brits in Oklahoma
Going out - British Pubs and Restaurants in Oklahoma

There are a couple of British pub / restaurant type places to go to, and also some Irish ones. I've listed my personal favourites here.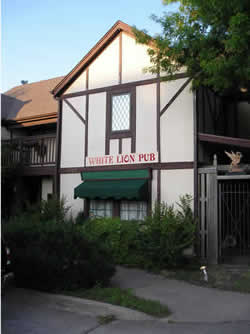 The White Lion Pub

6927 S Canton Ave
Tulsa, OK 74136-3418
(map)

Phone
918 491 6533

Opening hours
4pm to 10pm Tue-Thur
4pm to 11pm Fri-Sat
Closed Monday.

Top of the list, The White Lion is the best British pub / restaurant in Oklahoma. With plenty of character and a very good atmosphere you could almost forget you're not in the UK. Don't get me wrong, the other places on this page are good but the White Lion is like a piece of the sceptred isle itself transported to Tulsa. If I'm homesick this is the only place that can fix it!

As one would expect there are plenty of British and Irish beers on tap, including Boddingtons, John Smiths, Old Speckled Hen, Beamish, Harp, and Guinness to name a few.

White Lion Menu

The menu is good and it all tastes authentic, not surprisingly as Betty the landlady and dab hand in the kitchen, is a native Liverpudlian. If you're craving a decent plate of sausage beans and chips, just like your mum made them, then you can't go wrong. There are plenty of other dishes on the menu, plenty of desserts and a good Christmas dinner complete with


The Ploughman's Lunch - Assorted cheeses, roast ham, bread, picked onion, Branston pickle and tomato.
Lord Nelson - Cheese & onion Pasty (cheese, potato, onion and spices in puff pastry), with veggies and chips.
Cockney Pride - Bangers and mash with brown gravy.
Me Mum's - Sausage, Heinz Beans and chips.
The Beefeater - Burger with all the trimmings.
Chelsea Chicken Sandwich - As it says.
The Yorkshire - Steak and kidney pie, vegetables & chips.
Fish & Chips, of Course! - with mushy peas.
Cornwall Special - Cornish pasty, veggies and chips.
Lancashire Feast - Steak and mushroom pie, veggies and chips.
Taste of the Midlands - Cottage Pie and carrots topped with mash and cheese, veggies and chips.
The Devonshire - Chicken and mushroom pie in white sauce, veggies and chips.
The Cheshire - Grilled cheese sandwich with a bowl of the soup of the day.
---
Kilkenny's Authentic Irish Pub
1413 E. 15th St.
Tulsa, OK 74120
Phone 918 582 8282
Fax 918 582 3931
www.kilkennysirishpub.net
Kilkenny's is very authentic, as most of the building was brought across the pond from Ireland. There's plenty of atmosphere, a full complement of import beer, Irish whiskies, etc, and plenty of authentic food on the menu.
---
India Palace
6963 South Lewis Ave.
Tulsa, OK 74136
Phone 918 492 8040
Fax 918 492 8350
indiapalacetulsa.com
If you're after a decent curry, and let's face it the curry is a national dish back in the UK these days, you'll be hard pressed to find a better Indian restaurant in Tulsa than India Palace! The menu has plenty of options, and I highly recommend their Chicken Tikka Masala and Kebabs. They're open 7 days a week for lunch buffet and dinner, and very good it is too.
---
James E. McNellies Public House (and McNellies South City)

Downtown
409 E. 1st Street
Tulsa, OK 74120

South City
7031 S. Zurich Ave
Tulsa, OK 74136

Phone 918 382 7468
www.mcnellies.com
McNellies has a huge selection of drinks, with a particularly strong showing in the British beer department! If you aren't sure what you want, try them all with a flight of beers!

There's reasonably good pub grub to nosh on, live music every Tuesday & Thursday, a good atmosphere and plenty of parking space.
---