Brits in Oklahoma
British Stores in Oklahoma - Food and Drink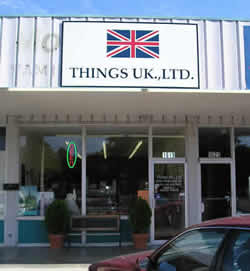 Things U.K. Ltd

Fancy a nice cup of tea? Beans on toast? Bag of Hula Hoops? If you're looking for a proper British store where you can buy all your favourite imported UK food and drink in Oklahoma you can't beat Things U.K Ltd.

Owned by Graham & Rosemary Smith, Things U.K Ltd stocks an exceedingly good (as Mr Kipling would say) selection of British foods, china, gifts, and videos. From teapots to toffee crisp, Penguin bars to Pot Noodle, they have it! The stock covers all you might want; teabags, sweets, chocolate, crisps, condiments, cakes, biscuits, breakfast cereals, drinks and a substantial frozen food section too :)

The Christmas selections are always well done with plenty of Christmas puddings, Christmas cake, crackers and selection boxes. Same with Easter Eggs! They can also order in specific items for you by request and shipments from the UK are frequent.

Open Mon-Sat 10am to 5pm

Things UK Ltd
1619 S Main St
Broken Arrow, OK
74012-5064

Phone (918) 258-7654
E-mail tot at mindspring dot com


---
Cost Plus World Market
5356 E Skelly Dr,
Tulsa, OK 74135

Bit pricier, but if you're in a fix and don't have Things UK access, World Market has teabags, biscuits, sweets and the smaller jars of Marmite in the food section at the back of the shop.


---
Sprouts Farmer's Market
Nationwide
USA

Among other things I've found crumpets! They're made in Canada but tasted top notch with butter and a bit of Marmite or slice of cheddar.


---
Target
Nationwide
USA

Target stock Weetabix. Oh yes, the original healthy British breakfast cereal. This side of the pond it's made in Canada so doesn't suffer the killer shipping premium most stuff imported from the UK does. They also stock a reasonable microwave curry.

Beer & Spirits

The beer situation in Oklahoma has gotten a lot better in recent years and you can now find quite a few British and Irish beers at the various liquor stores in the state e.g. Boddingtons, Youngs, Fullers, Wychwood, Samuel Smith, Wells, Moreland, Beamish, Harp, Guinness, Bellhaven, etc.